Mar 8, 2010
Muhammara (red pepper and walnut dip)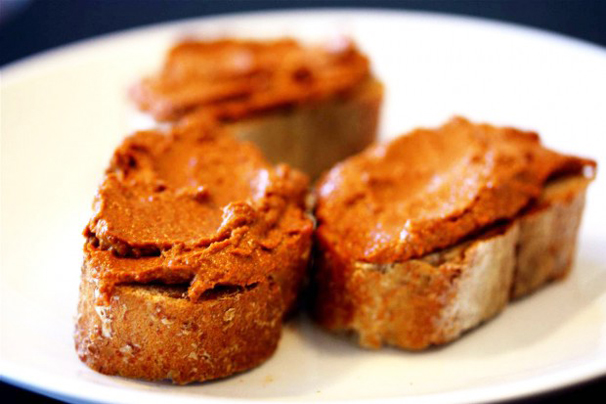 There's nothing like butter on a crusty piece of bread. But alas, no more butter for me. So I'm going to share with you one of my favorite alternative bread toppings. Muhammara is a spicy and sweet Syrian spread that features the aforementioned heart superstar, walnuts. Thanks to my friend Tracy Miller (painter and food lover extraordinaire) for this muhammara recipe, which I tweaked just a bit. I've also provided two variations, in case you want to try a smoky muhammara or a quick one.
Muhammara
1/3 cup extra virgin olive oil
2 large red bell peppers, cut into very thin strips
1 medium yellow onion, thinly sliced
1 t. red pepper flakes
2 cloves garlic, minced
1 c. toasted walnuts
1 1/2 t. cumin
1 T. pomegranate molasses*
4 t. lemon juice
1/2 teaspoon salt
Saute the onions, red peppers and red pepper flakes in the olive oil, over medium heat, for about 30-40 minutes, until the vegetables are completely caramelized. The onions will get quite dark. Adjust heat as necessary so that the vegetables don't brown too quickly or burn. Add the garlic during the last two minutes. Add this mixture to a food processor (using a rubber spatula to get every last drop of oil) with the remaining ingredients. Pulse until combined, then process until fairly smooth. If it's too thick to process, add more olive oil and/or water until you reach the desired consistency. It should be thick but not overly gummy.
* You can get pomegranate molasses in middle eastern shops, or easily make your own. Tracy also suggests grape molasses (called "dibs"), for a sweeter flavor.
Smoky variation: Roast the bell peppers instead of sauteeing them.
Quick variation: Leave out the sauteed onions and peppers. Add a 12-oz. jar of roasted red peppers (drained) to the food processor with the other ingredients, and add the oil in a slow stream while the motor is running.