Mar 4, 2010
Curried quinoa with cauliflower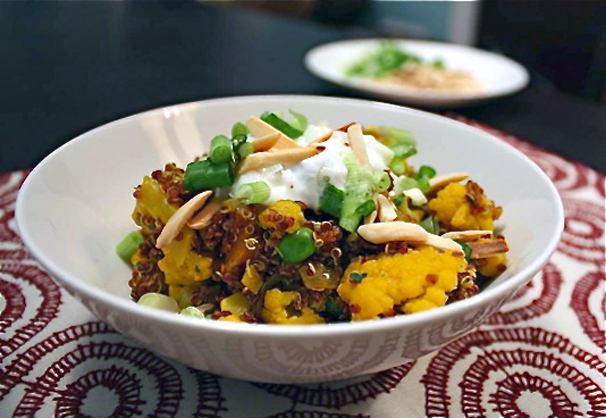 I'm quickly becoming a quinoa freak.  Aside from the intriguing texture and sweet nutty taste, it's a complete protein source and is easy to digest. What more do you want in a 6,000 year-old grain?  (Or chenopod, to be specific.)
Tonight I whipped up this delicious one-dish curry, which took about 45 minutes in all.  I used red quinoa, which has a nice earthy flavor, but regular white quinoa would be fine, too.
Be sure to top this dish with toasted almonds and a simple raita (plain nonfat yogurt with grated cucumber and pinches of cumin and salt.)
Curried Quinoa with Cauliflower
2 tablespoons oil (canola, high-oleic safflower, or olive oil)
1 medium onion, chopped
3 cloves garlic, minced
1 tablespoon minced fresh ginger
1 carrot, cut into 1/2 inch half-moons
1 small head cauliflower, broken into small florets
1/4 teaspoon salt, or more to taste
5 teaspoons curry powder
1/4 teaspoons cayenne pepper
1 cup water
1 cup frozen peas
1 cup quinoa (recommend Ancient Harvest's no-rinse variety)
Heat the olive oil in a large skillet. Add the onion, garlic and carrot, and cook over medium heat for 5 minutes. Add the cauliflower, spices and salt, and cook for another minute. Add 1 cup water, then cover and simmer for 12-15 minutes, until vegetables are tender. Add the peas during the last minute of cooking.
Meanwhile, cook quinoa according to the package directions. Mix the curried vegetables into the quinoa and serve. Top with nonfat yogurt, soy yogurt or raita, and toasted slivered almonds.