Mar 22, 2010
Beet salad with pickled onions and mint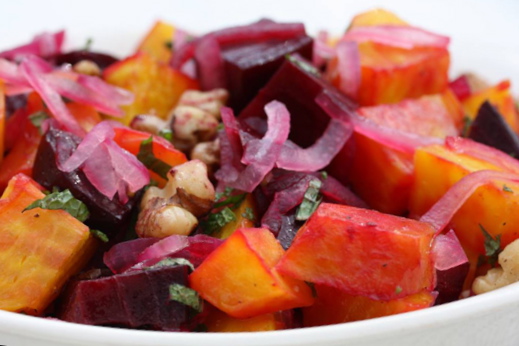 They say the deeper, darker and richer the color of your food, the better it is for you. If that's the case, then this salad must cure just about anything.
Raw, unpeeled beets are beautiful in their own rough & rocky way, but cooked beets are absolutely stunning – especially when you combine deep crimson and light golden ones. For this salad, I added more color in the form of pink pickled onions and fresh mint. The salad is as exciting to eat as it looks: earthy, sweet, savory and tangy all at once. And you're getting your fill of lycopene, folate and antioxidants.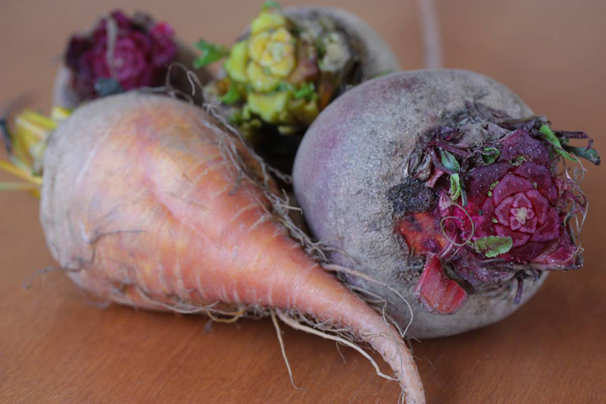 Beet Salad with Pickled Onions and Mint
4 beets (about 2 lbs.)
2 T. white wine vinegar (make sure your vinegar is gluten free if you are gluten-sensitive)
1/4 c. olive oil
Salt and black pepper to taste
3/4 c. white vinegar
3 T. sugar
A few each: peppercorns, coriander seeds, cloves (optional)
1 small red onion, halved and thinly sliced
2 T. chopped fresh mint
1/2 c. walnuts, toasted (optional)
Preheat oven to 400 degrees. Cut off and discard most of the stems from the beets, then wrap them individually in foil. Place on a cookie sheet and bake for 50 minutes, or until the beets give only halfhearted resistance when pierced with a knife. Unwrap and cool for a few minutes, then peel and cut into bite-size chunks.
Meanwhile, heat the vinegar, sugar and optional spices in a small saucepan, stirring to dissolve sugar. Bring to a boil, add the onion and simmer for 1 minute. Remove from heat and let sit for 10 minutes. Drain, discarding spices.
Put the vinegar in a small bowl, and gradually whisk in the olive oil. Season to taste with salt and pepper. Pour over beets and stir. Gently fold in the mint, pickled onions and walnuts.