Feb 25, 2010
Take this book and shelve it: Clean Food
The internet is a great recipe source, but I find myself going old school more often than  not. There's just something I love about flipping through my cookbooks until I find just what I'm in the mood for. So now and then I'll recommend some of my faves to you.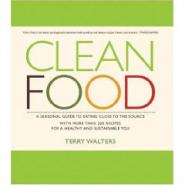 One of my most recent purchases is Clean Food, by Terry Walters.   I think the back cover convinced me to buy it, with shout-outs from heavy hitters like Mario Batali, Charlie Trotter and Alice Waters.
I  would file this one on my "super wholesome" shelf, because it focuses on vegan food with simple, unprocessed, nutritious ingredients.  Many recipes contain legumes and interesting grains like quinoa, as well as meat substitutes like seitan (hey, don't knock it – I will make a seitan lover out of you soon enough) and of course, seasonal vegetables. While she occasionally calls for a few ingredients you might not have floating around your kitchen, such as mirin or kombu, the recipes are generally very simple to make. I whipped up a meat loaf-ish thing with lentils, nuts and apples, which tasted like Thanksgiving stuffing, but with less carbs.  Right up my alley.