Feb 24, 2010
Pasta with beans, greens and vegetarian sausage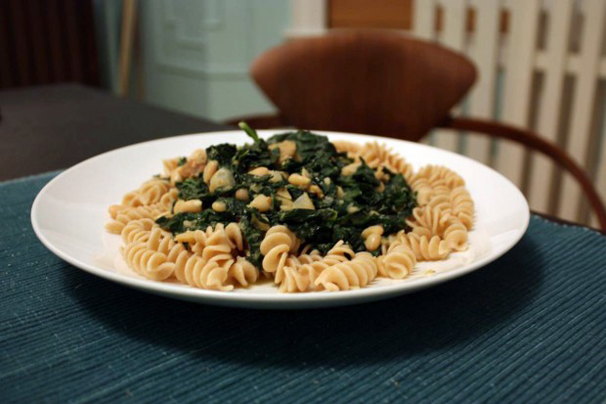 After walking out of work at 7:45 (not too bad, considering that I work in advertising), I made a pit stop at Whole Foods to pick up something for dinner.  But did I go to the prepared food counter, like most sane people would at this late hour?  Nope. I picked up a few ingredients to make pasta. Pasta, you say?  You're going to carbo-load?!   Not to worry – my creation will contain lots of protein and leafy greens to counter any pasta-induced guilt.
First, I got kamut pasta.  If you don't know about kamut, it's your time.  Kamut is a type of wheat, but it's higher in protein a than regular pasta and even whole wheat pasta: every 2 oz. serving (uncooked weight) has 10 grams. To add even more high-quality protein, I'm buying two cans of cannellini beans.  I know, I know…just yesterday I dissed supermarket beans in favor of heirloom beans from scratch (hypocrite alert!) But hey, it's Tuesday night and I need to eat.  Tip: if you are going to eat canned beans, I recommend the Eden brand, because theirs are the only cans that don't contain potentially dangerous BPA in the can lining.  To add more flavor and yet more protein, I'm throwing in some vegetarian sausages.  I love, love the Field Roast sausages. They aren't soy-based like most faux sausages – they're made from wheat gluten.  While they are higher in calories and fat, they also have nearly double the protein – 26 grams per sausage.  And they just taste way better, especially the smoked apple flavor. (Again, this is not a paid product endorsement, I just like 'em.)  Lastly, I grabbed two bunches of lacinto (aka dinosaur) kale, which is a virtual health superstar.
By the time I dragged myself home with my haul, it was already after 9.  But it took me only 20 minutes to make this dish, from start to finish. So there was still time for some mindless TV afterwards.
Pasta with Beans, Greens and Sausage
Serves 6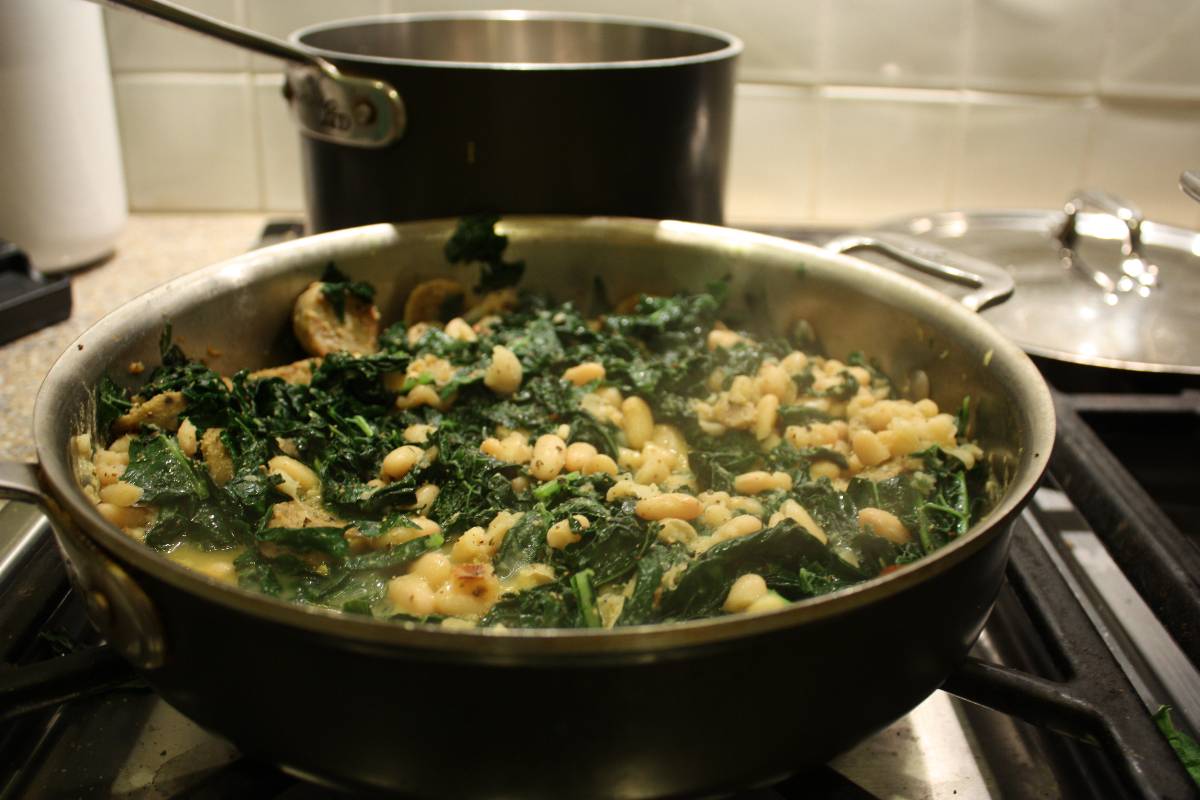 1-2 T. extra virgin olive oil
A pinch of crushed red pepper flakes
3 cloves garlic, minced
2 vegetarian sausages of choice, sliced
2 bunches of lacinato kale, stems removed, leaves chopped
2 cans cannellini beans, drained and rinsed
2-2 1/2 cups vegetable stock
Freshly ground black pepper
12 oz. whole grain pasta of choice
Saute the garlic, pepper flakes and sausage in the oil over medium heat until nicely browned. Add the kale and cook for three or four minutes, until softened. Add 2 cups vegetable stock and the beans, using a potato masher to mash up about half of the beans  in the pan. Simmer for about 8 minutes. Add another half cup or more of stock if the mixture gets dry. Season very generously with black pepper.
Throw your pasta into boiling water at the same time that you add the beans.  Drain.  Mix. Eat.
We eat this about twice a week – the variations are almost endless. In addition to using different types of pasta, you can vary the beans by using navy beans, chickpeas or any number of heirloom beans. Try broccoli, broccoli rabe or swiss chard instead of the kale. You can leave out the sausage as I often do, or use chicken sausage instead, if you're so inclined. It's also really nice with some halved cherry tomatoes added when you add the beans.
Oh dear, blogging about this meal took much longer than cooking it.  'Night, everyone.